News Release:

December 5, 2012
Mi-shell will teach a Shamanic Journey Circle at our home, for information and inquiry please call 705-645-4167 or email
October 21, 2012
Mi-Shell is having a Healing Circle at our home, starting at 3pm. If you are interested please call 645-4167 or email
February 4th, 2012:
Mi-Shell created her own blog, please follow her on her blog Shamanic Drumm
Mi-Shell will teach healing with BEAR Medicine and the Power of Healing on January 22nd,2012 . For more information email and see as well Shamanic Healing Bear Ceremony
June 2010
Since May 19 you can find us every Wednesday from 9 am to 2pm at the Gravenhurst Farmers' Market.
April 22 2009
check out Mi-Shell's new blog/journal at the "Beliefnet-website", you can also find her profile and pictures in Beliefnet. To see pictures of Mi-Shell's smaller Tarot-card pouches click "Photobucket"
December 2008
During the Muskoka Arts and Crafts Christmas-Show, November 29-30, 2008 the photographer from the Muskokan took a picture from Peter cutting earrings "Three Dancing Sisters".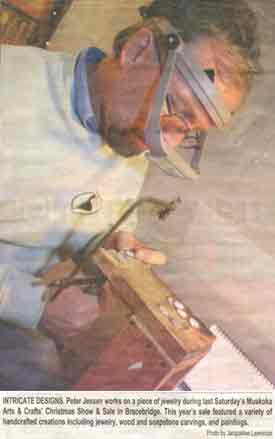 September 2008

there is an article about us on the website newsletter "As the Rooster Crows" from the Gravenhurst Farmers' Market.
Read the full article "Things you didn't know about Peter + Mi-Shell Jessen from Bearpaw Jewellery" and pictures at the Gravenhurst Farmers' Market website or click here

August 16/2008
Honourable Mention
at this year Summerfolk Festival in Owen Sound, Peter won an Honourable Mention for his pendant Fancy Fish with earrings.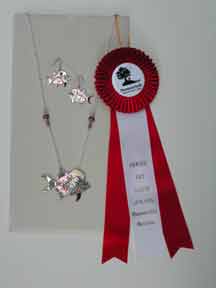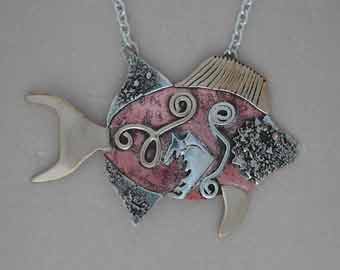 August 2008
Muskoka Magazin
in the August issue this magazine published an article about wolves: "Mysterious Wolves". Mi-Shell recounts her experience with an encounter with wolves at our home:
"....Though it is not usual for wolves in Muskoka to feed on moose, it does occur. Mi-Shell Jessen, who lives outside Bracebridge in Fraserburg, reported witnessing a wolf pack attacking a moose a few winters ago. "I was coming home at 9:30 at night...There was fresh snow on Fraserburg Road and two kilometers behind the village of Fraserburg, there were a number of fresh tracks in the snow: moose and wolf tracks, as I could see. There are two 90-degree angle curves just before one gets to our driveway and as I rounded the first one, I almost ran into a snarling wolf. He - it was a male - and three others had cornered a moose in the middle of the road and were ready to tear it down. The moose's hindquarters were shaking and shivering and it was snorting and breathing fast; clearly at the end of its strength.
Being interrupted by me, three of the wolves jumped over the snowbanks and into the bush. The last one, the male, was snarling at me and the car, the bounded after his pack mates. The moose was shaking all over and slowly trotted on down the middle of the road and turned into our plowed driveway, staggering up the 1500 feet up to the house and then slowly vanished into the frozen swamp beyond. Next morning my husband Peter followed its tracks for several kilometres through the deep snow and found a spot where the animal had laid down to rest. Then, a few hundred yards after that, there again the moose encountered the wolves, their tracks covering his...."
Coming up:
Healing Bear Ceremony
Mi-Shell will do a Healing Bear Ceremony on
Saturday, October 25, 2008.
For more information please call (705)645-4167 or e-mail

Muskoka Arts & Craft Show, July 18, 19 and 20
come and visit us in Bracebridge in Annie Williams Memorial Park, our booth number is 49, near the cemetery entrance!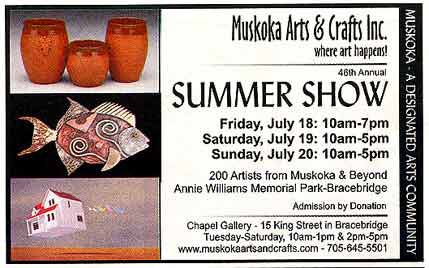 This advertisement shows the "Fancy Fish" pin from Bearpaw Jewellery.
June 27, 2008 the Weekender
And there is a great picture from Mi-Shell in the Weekender. This picture was also taken by Laura MacLean during the National Aboriginal Day at the Muskoka Heritage Place on June 21 2008.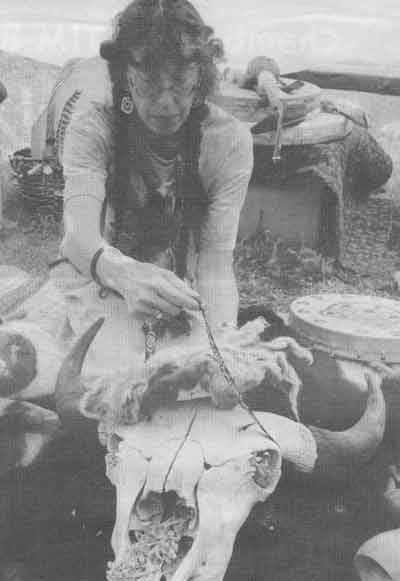 Mi-Shell explains the significance of the buffalo for First Nations.
June 26, 2008 the Muskokan
There is a nice picture from Mi-Shell in the Muskokan. The picture was taken by Laura MacLean during the National Aboriginal Day at the Muskoka Heritage Place on June 21 2008.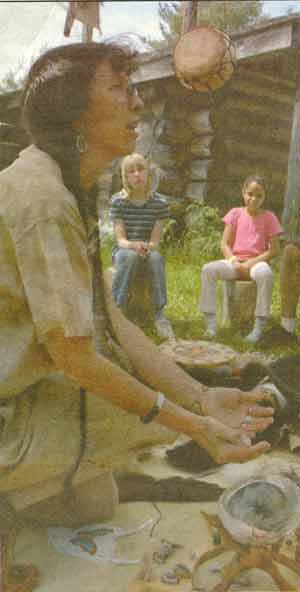 Mi-Shell is smudging
May 22 Muskoka Sun
A half-century of keeping local history alive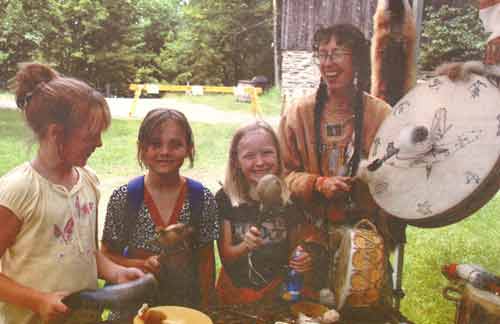 Muskoka Pioneer Village 2007
May 21 Gravenhurst Farmers' Market is opening
Come to the market, enjoy spring and visit our booth
March 20 Spring Equinox=Beginning of Spring?
We still have snow and not just a few centimetres. Even after some warm spells the snow is piled up to a couple feet. But this means for us, that the quiet winter season is coming to an end. So right now we are preparing craft show applications. This is always much more work, then many people can imagine: we have to create new jewelry pieces, take perfect pictures from these pieces, fill out all the different requirements for the different craft shows ( some shows are requesting pictures, others slides and others are happy to receive a photo-cd). So right now our show list is still incomplete, because we haven't heard from the organizers if we are accepted. Please check out our updated show list.
So we wish everyone a Happy Spring Equinox


October 5/2007
Muskoka Magazine published an article about Mi-Shell working as a Shaman. Read the full article:
"Holding steadfast to her healing heritage"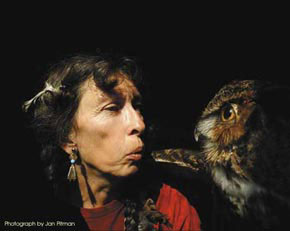 August 18/2007
AWARD for ANCIENT POTTERY!
Bearpaw took home an Honourable Mention for Peter's unique reproduction of ancient style pots at the Summerfolk Festival in Owen Sound, Ontario this past August. This is one of Peter's 'one-of-a-kind' pieces.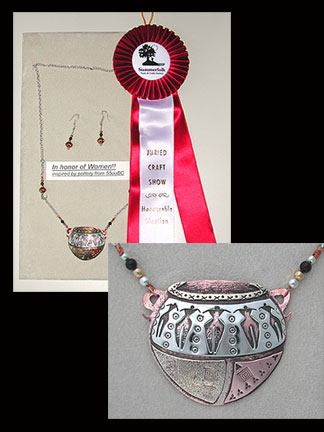 THE ARTISTS | GALLERY | STUDIO | SHOWS | SHAMANIC TEACHINGS | LEGENDS | LINKS | HOME