Legend of the Wasco Natives in Oregon,USA
Legend of the Big Dipper
5 Wolf Brothers lived on earth and hunted deer, elk and other game. Coyote lived with them, sharing the food. One evening, Coyote heard the brothers talking about something what they had seen in the sky. He asked each brother what they had seen, but the wolves did not want to tell him. Finally, the brothers acquiesced.
" We saw 2 animals up there, but they are so high that we cannot get them", they said. At this time, there were no stars in the sky.
"Oh, we can get there!" replied Coyote. He took his arrows and began shooting them. The first arrow stuck in the sky, the second hit the shaft of the first arrow, and so on until there was a chain of arrows into the sky land. Coyote had notched the arrows so that they would be easy to hold on to. He led the way and the brothers followed. The oldest brother carried a dog. It took them many days to reach the sky. When they did, they found themselves near the two Grizzly Bears.
"Be careful!" cried Coyote. "They will rip you to bits!"
But the two youngest Wolf Brothers were not afraid and went right up to the Grizzlies. The oldest brother, with the dog, hung back because he was fearful.
Coyote looked at the Wolves and Grizzlies standing there, and he liked what he saw. He thought, "I'll make them into a picture that the people on earth will see." So he, taking down the ladder arrow by arrow as he descended.
Today you can see the five Wolf Brothers, the little dog and the two Grizzly Bears in the sky.
from Stars of the First People by Dorcas S. Miller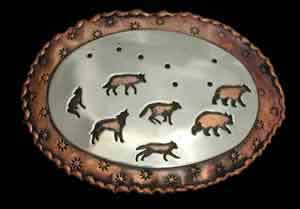 Pin: Big Dipper
size app. 60mm x 40mm (app. 2 3/8 " x 1 5/8 ")
Sterling Silver, red brass
Price: C$ 120
THE ARTISTS | GALLERY | STUDIO | SHOWS | SHAMANIC TEACHINGS | LEGENDS | LINKS | HOME