Medicine Animals/ Spirit Guides: The Spider
Musings on Susistinako, Grandmother Spider:
Dancing the dance of Truth and Trust with Spider Woman is often a difficult journey.
It is a Medicine of the West = introspection, walking away from all the things that no longer serve your greater good and purging them from your life and your soul.
It usually is easier to do when one has walked through the Medicines of South like Bear= Knowledge of Self, Badger, (dealing with and walking through anger) and Mouse (hoarding things for bad times but also mindlessly collecting what others put in front of us and dragging it into our "Nest"(soul) where it may ultimately work against us.....
And Never mind Coyote's bag of tricks and all the ways we trick ourselves...
Spider Woman Wisdom is the Wisdom of the wise old crone deep within us....
But Spider Woman has 8 legs and that means 8 questions!
In traditional teachings often 4 right sided = tonal = life-skill related ones and 4 left sided = Nagual =related to spiritual development.
And a traditional teacher would want you to give 8 statements- make 8 points to each of these questions......
That can be tough slugging if you have not gone through Bear Medicine first.....
Sometimes however these things "cross paths" and you have to watch out that the Spider Questions/ Wisdom does not tangle you up, when you are not ready......
Oh, the complicated web we weave!
Read up on Arachne.
http://www.goddessgift.com/goddess-myths/greek-goddess-arachne.htm
http://www.allfiberarts.com/library/goddess/blarachne.htm
http://www.goddess-athena.org/Encyclopedia/Athena/Arachne.htm
:-) Feel free to share your experiences via Email:-)
Mi-Shell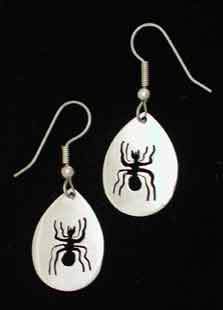 Earrings: Spider
this design is inspired by the huge geoglyph from Nasca,Peru
earrings size: app. 18mm x 25mm (app. 45/64" x 1")
Sterling Silver, with surgical steel French wire ear hooks (sterling silver French wire ear hooks available on request)
Price: C$ 50
THE ARTISTS | GALLERY | STUDIO | SHOWS | SHAMANIC TEACHINGS | LEGENDS | LINKS | HOME